Standing is beneficial to your overall health and a way to shed a few extra calories. As well as they make it easy to have better posture while helping with your back pain from sitting at a desk for too long and encouraging you to move around. So in this article, we will review the top 10 best standing desks that will take you out of your sedentary lifestyle into a much healthier and comfortable alternative.
Here at Furniturelesson.com, we are a bunch of product researchers and testers. We test, analyze and research new products and create a list of the best and top-selling products based on price, quality, feature, and user feedback. Our goal is to create a proper shopping guide so that our readers can make the best decision.
1 SmartDesk 2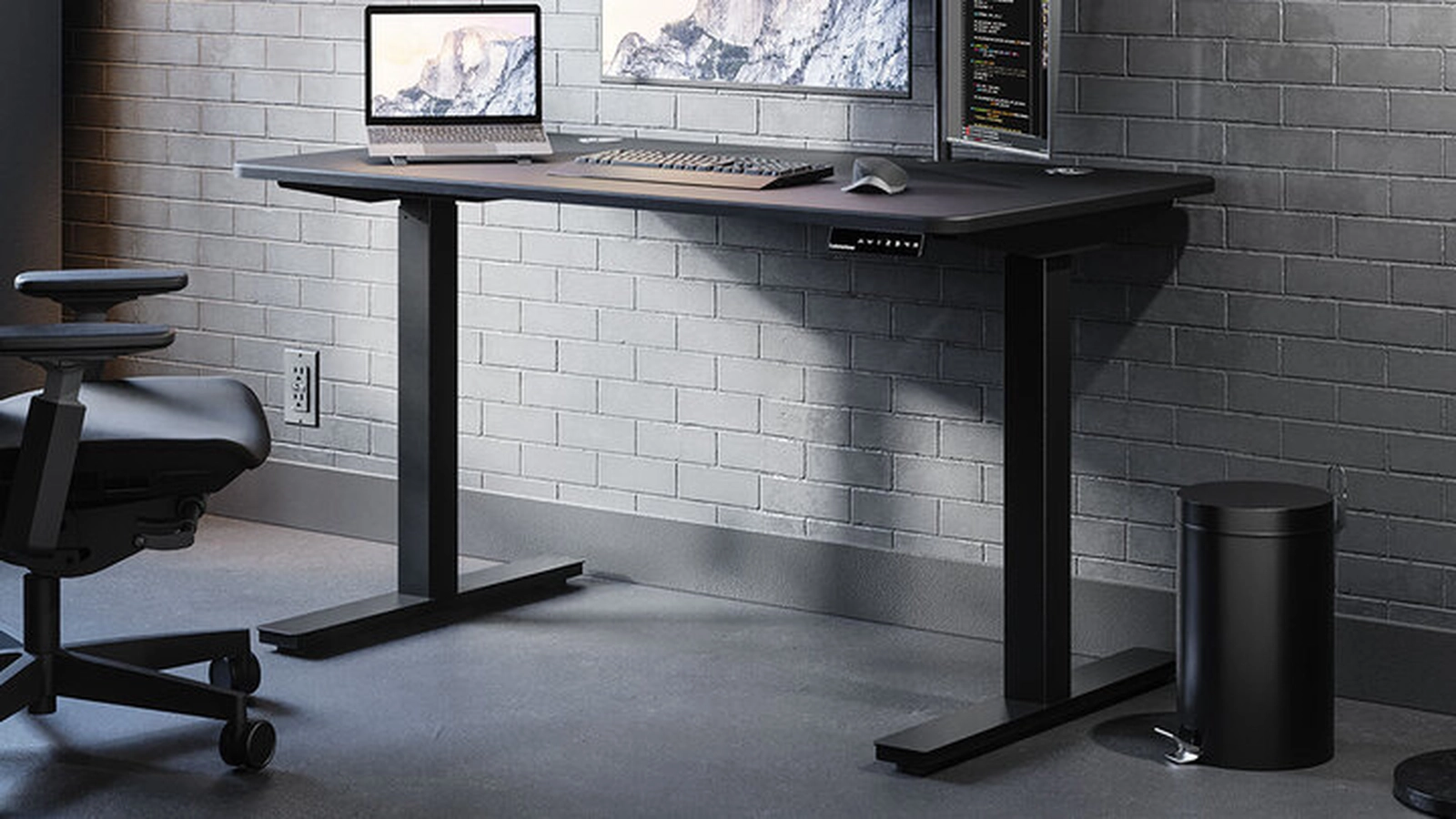 Boost your energy and productivity with just one click with the smart desk 2 from autonomous. A standing desk that is great for its design and adjustable functionalities. Built on a sturdy steel frame, this tabletop comes in two sizes and available in beautifully finished MDF wood or natural bamboo just to match your office or home workspace.
Combined with an advanced dual-motor system, it comes with a keypad that enables you to program four custom height presets between 28 to 47 inches and adjust a press of a button. With a payload capacity of up to 300 pounds, this table can easily take your heavy components and hardware without any pressure.
In short, smart desk 2 is just perfect for those working professionals who want to take their workflow to the next level.
ASSEMBLY & POLICIES
Assembly required
Self-assembly
Assembly level
Easy
Average assembly time
15-30 mins
Assembly instructions
Available in package and PDF
Warranty
5 years for frame
1 year for top
Trial
30 days
Certificate
ANSI/BIFMA, UL Certification
You Might Also Like: Furniture Buying Guide: 7 Important Things You Need To Know
2 UPLIFT V2
Now introducing the Uplift V2 adjustable standing desk which can accommodate a wide range of heights. While featuring a variety of attractive customization options with multiple color options, it offers one-inch-thick Moso bamboo with durable green guard gold certified laminate and over a dozen different solid wood species for creating your perfect desk.
When it comes to design, this adjustable desk is one of the best contenders. As it can give you a personalized option for the size desktop, material, accessories, and much more. Offering a sturdy frame with a dual-motor system, you can adjust its height between 25.3 to a huge 50.9 inches to accommodate your personal needs.
On top of that, it is capable of lifting up to 355 pounds of weight so that you can put multiple monitor setups or hardware with ease.
Specification
| | |
| --- | --- |
| Height range | Standard: 24.3″ – 49.9″ H (25.3″ – 50.9″ H with 1″ dktop) Commercial: 21.6″ – 47.7″ H (22.6″ – 48.7″ H with 1″ dktop) |
| Travel speed | 1.7″ per second (varies – slowest with maximum load) with soft start/stop actuator motors |
| Noise level | 50 decibels during motion |
| Desktop width range | 42″ – 80″ wide |
| Weight capacity | 355 lbs |
| Foot leveling stud adjustment range | 3/8″ adjustment for uneven flooring |
| Voltage Input | 100-120VAC, 50/60Hz, 4.0A |
| Output | 24Vdc, 5.0A |
| ANSI/BIFMA X5.5-2014 Durability Certification | Passed ANSI/BIFMA X5.5-2014 Durability Standard Testing (passed all applicable sections 4.3, 4.4, 4.6, 5.2, 5.3, 5.4, 5.5, 6.0, 7.0, 8.0, 15, and 18) |
| Safety certifications | Lifting Column, Power Cord, & Control Box – UL/CSA (Canada and U.S.) |
3 Flexispot Standing Desk
Do you want to get an adjustable standing desk while not diving deep into your pocket? Well, then get ready to know the Flexi stop standing desk which is nicely designed and offers an affordable price tag. Constructed from environmentally friendly one-inch-thick chipboard.
This table has a 48 by 30-inch desktop that can hold up to 154 pounds of weight to adapt to your needs. Made with high-grade steel the desk is resistant to any wobbliness even at the highest adjustment setting.
Besides this table offers dual electric motors and different forms of keypad with which you can adjust its height from 28 to 47.6 inches while sitting down or standing up. If you ever find it hard to assemble your table then do not worry as its innovative quick install design will let you set it up within just a few minutes.
With multiple color options, this table will give you the options to create the perfect home office desk that you can imagine.
Technical Details
| | |
| --- | --- |
| Manufacturer | FLEXISPOT |
| Brand | FLEXISPOT |
| Item Weight | 102.8 pounds |
| Product Dimensions | 48 x 30 x 0.01 inches |
| Is Discontinued By Manufacturer | No |
| Color | Black |
| Shape | Rectangular |
| Material Type | Metal |
| Size | 48×30″ |
| Manufacturer Part Number | EC1B+R4830B-CB |
4 SHW Adjustable Computer Desk
Find a healthy balance between sitting and standing up throughout the day by using the SHW adjustable computer desk which offers pretty decent features. While giving you more bang for your buck, this table has sturdy steel legs and durable particleboard on top which can hold up to 110 pounds pretty easily.
Besides, its legs use telescopic adjustments transitioning to let you adjust its height between 28 to 46 inches in a matter of seconds. Even more, this table comes with a height adjustment controller that you can use to save the current height setting so that you can instantly toggle to your preferred heights later on.
Moreover, it comes with a grow mat on top as well as a cable management basket underneath to keep your wires neat and the desk organized.
Product Information
| | |
| --- | --- |
| Product Dimensions | 47.25 x 23.6 x 28 inches |
| Item Weight | 68.8 pounds |
| Manufacturer | SHW |
| Item model number | OD-009-4 |
| Customer Reviews | 4.6 out of 5 stars (6,160 ratings) |
| Date First Available | September 9, 2019 |
5 Vari Electric Standing Desk
Do you want an adjustable desk that can accommodate your space perfectly but can't find one? We'll have no worries because we have got the very electric standing desk that won't take up much of your space while being elegant. This electric desk features a heavy-duty frame with T-style legs and five variations of material with a durable laminate finish so you don't ever have to worry about spills.
With multiple programmable settings, it will let you adjust its height between 25.5 to 50.5 inches to accommodate your need. Besides, there is also a spacious cable management tray underneath for which you can manage your cables nicely to get a clean look at your desk.
This desk supports up to 250 pounds of weight so that you can load it up with multiple monitors, computers, and more without any worries.
Product Information
| | |
| --- | --- |
| Product Dimensions | 30 x 60 x 25.5 inches |
| Item Weight | 31.4 pounds |
| Manufacturer | Vari |
| Customer Reviews | 4.9 out of 5 stars (1,136 ratings) |
| Date First Available | June 1, 2020 |
6 ApexDesk Elite Series
Get to know the elite series adjustable standing desks from the apex desk which is impressive for its combination of large, width, and sturdy construction desk. Its strong and durable one-inch-thick ergo-shaped MDF wood has a scratch, resistance, laminate, top, and a smooth matte finish which makes it easy to maintain and would last for years to come.
Its solid construction of an industrial-grade steel frame enables the desks to support up to 225 pounds without a hitch. Don't forget to stretch your legs because this adjustable desk has a quick and quiet dual motor height adjustable lift system that allows the desk to go up or down between 29 to 48 inches smoothly.
Available in two top sizes and six wood colors, the apex desk elite series will surely match with most home or office decor and accommodate your ideal workspace setup.
Product Information
| | |
| --- | --- |
| Item Weight | 40.3 pounds |
| Product Dimensions | 60 x 30 x 48 inches |
| Item model number | ET60-OAK |
| Is Discontinued By Manufacturer | No |
| Customer Reviews | 4.8 out of 5 stars (1,812 ratings) |
| Date First Available | April 27, 2015 |
7 Branch Standing Desk
Do you want a modern-looking adjustable standing desk that goes with your furniture? Then meet the branch standing desk which offers exceptional stability looks and is a versatile piece of furniture in many ways. It comes with a melamine textured laminate top which is stain resistant so that you will be safe from any spillage or other accidents.
With dual easy glide motors, it can lift up to 275 pounds of your heaviest office supply smoothly and quietly in just seconds. Besides, it has got a smart control panel at the front that features sentimental level adjustment with four memory presets and you can lift it from 25 to 52 inches based on your desired mood.
Furthermore, the branch desk offers some optional features such as in-desk power outlets and USB ports to juice up your small devices.
Ideal for
Exceptional durability for home or the office
Encouraging movement and energy
Simple cable and wire management
Features
Dual low-decibel motors with centimeter-level adjustment with a lift capacity of 275 lbs and an extended lift range from 25-52
Three-stage columns and leveling feet for exceptional stability
Brushed grommet for cable routing and optional in-desk power
8. Jarvis Bamboo Standing Desk
Designed to keep you in motion, meet the award-winning Jarvis bamboo standing desk from fully that offers a wide range of heights to accommodate most people. This desk offers a bamboo desktop with beautiful colors that comes naturally from the kiln. And it will fit elegantly with your work and home decor with a height-adjustable ability from 23.25 to 49.25 inches.
Its frame is reliable and strong for which it can lift an immense 350 pounds of weight with relatively no desk wobble making it perfect for your multi-monitor setup. Besides, at the front, you will find a control panel that has 4 presets to swiftly change between the heights and positions to stretch your limbs and to make your desk neat. It also has a rubber grommet on the back corners of the desk which will help you keep your desk and cables organized.
| | |
| --- | --- |
| Manufacturer | Fully |
| Brand | Jarvis |
| Item Weight | 92 pounds |
| Product Dimensions | 30 x 48 x 25.5 inches |
| Customer Reviews | 4.8 out of 5 stars (397 ratings) |
| Is Discontinued By Manufacturer | No |
| Color | Black |
| Shape | Rectangular |
| Material Type | Steel and Bamboo |
| Size | 48″ Rectangle |
| Manufacturer Part Number | AMZ-JRV2L-BLK-WID-3ST-MP-BOO-4830-NTB-RG |
9 Edeskhub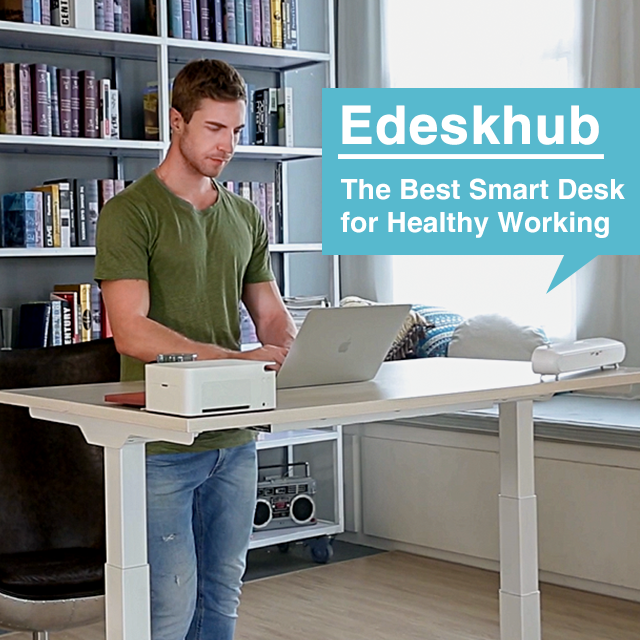 Introducing the all-new e-desk hub, a smart adjustable desk that perfectly matches your height and fits anywhere. You will find yourself getting more done and feeling better with its easily adjustable ergonomic positions. Its tabletop uses solid rubberwood that is durable and will provide a comfortable working feeling so that you can focus more and have a pleasant work experience.
With a dual-motor lifting system, its frame is made from cold-rolled carbon steel that is stable, smooth, and capable of lifting up to 155 pounds of weight without buckling. No matter if you're drawing or reading, it will meet all the needs as the height can be freely adjusted from 19.7 to 47.2 inches to achieve your most suitable position.
Other than that, this adjustable desk also features a built-in wireless charger and a couple of USB ports to charge your mobile device while working on the desk.
10. AiT Smart One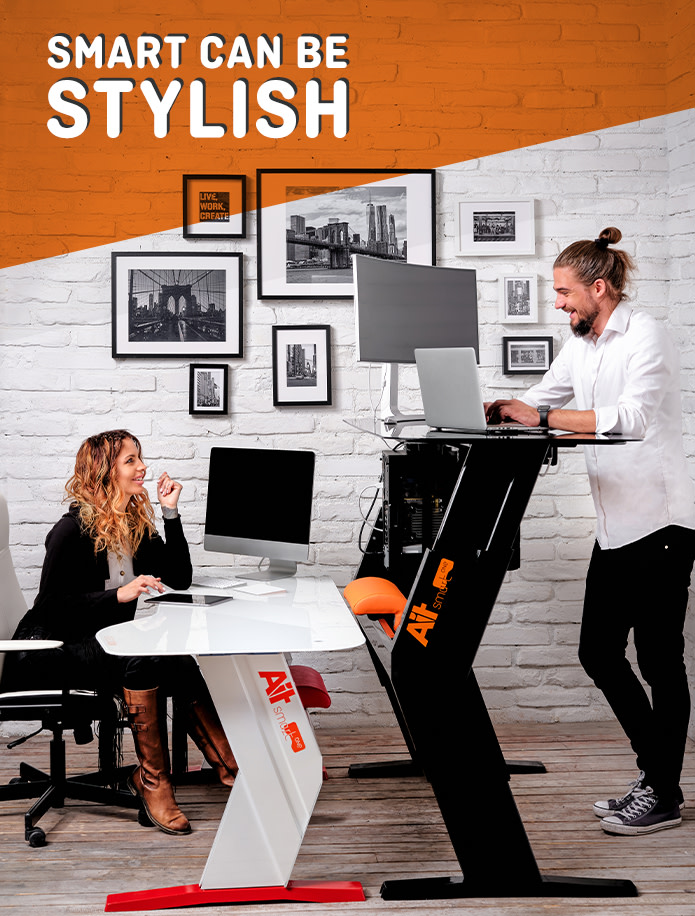 Tired of your desk not suiting your needs? Then meet the AiT Smart One, a uniquely designed adjustable desk that can take care of your health as well as will entirely change the way you work. It has a sturdy and durable frame design that can hold up to 280 pounds of weight effortlessly. Besides, it offers two different optional tabletops of wooden and see-through glass which enables you to choose based on your style and preference.
With three default height settings, you can adjust its height from 26.7 to 51 inches so that you can easily switch up your working day. In addition to physical buttons, this desk can be controlled via a smartphone app that monitors the time you spend sitting down and gives you a nudge when it's time to shake things up.
This smart adjustable desk offers multiple additional features such as an ergonomic footrest to put your feet up and relax and a built-in socket and USB ports to power your hardware. Not only that but it also offers a wireless charger to charge your devices a Bluetooth speaker system for some entertainment an aromatherapy diffuser to keep you relaxed and much more.
Key Features
Dedicated App
Built-in Fitness & Health Module
Fully adjustable height settings
Air quality sensor
Wireless charger
App-controlled security drawer
Ambient LED Lighting
Premium Bluetooth Loudspeaker System
Ergonomic Footrest
Aromatherapy Diffuser
Integrated Cable Management